There are at least two versions of the Liipfert Family Tree. One, dated 1982/83, is presented here. For a PDF version

, click here.
There is another tree, prepared by Klaus Liipfert in Berlin in March 2003, which captures the offspring downstream of Gotthold (9th Generation) through Gottlieb (10th Generation) and then Franz Julius Liipfert (11th Generation).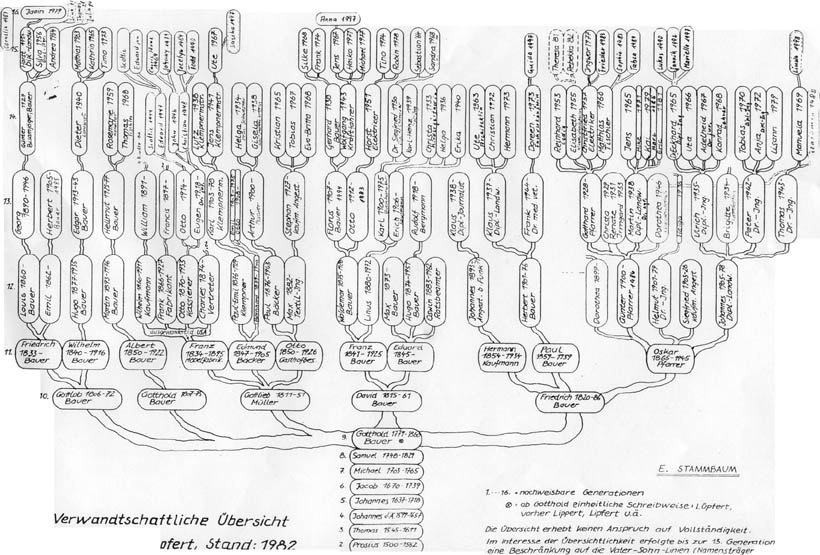 Here's the tree after Franz Julius Liipfert
Here are some members of the different levels of the family tree, with the increasing numbers being the distance from the root of the family tree.

Level XI: Franz Julius Liipfert

Level XII:

Wilhelm (William) Julius Liipfert (1860-1911)

Fannie (1861-?)

Georgie(1864-?)
Frank (1866-1927)
Otto Edworth Liipfert (1870-1933)

Charles (1874-1966)



Level XIII:

A.1 William Joseph Liipfert II (1891 - 1962)
A.2 Benjamin Bailey Liipfert (1898 - 1911) ?
A.3 Gertrude London Hill (18930-1966)
E.1 Otto Edworth Liipfert (1914-2006)



Level XIV:

E.2.a William Joseph Liipfert III (

E.2.b James Crane Liipfert (1921-1980)
E.2.c Betty ()

Benjamin Bailey Liipfert???
E.1.a Otto Edworth Liipfert II (Eddie)

E.1.b Anna Scott Liipfert (now Bowers)

E.2.a John Turney Liipfert (1947-)

E.2.b Christian Eugene Liipfert (1951-)



Level XV:


1.a.1.a
1.a.1.b
1.a.1.c
Benjamin Bailey Liipfert 1,2,3
E.1.a.1. Otto Edworth Liipfert III (Worth)
E.1.a.2 Scott Liipfert

E.2.a.1 Carrie Anne Liipfert (now Messina) (1970 - )

E.2.a.2. John Liipfert (son of John Turney Liipfert) (1977-)

E.2.b.1 Jocelyn Elizabeth Liipfert (now Liipfert-Lam) (1985-)

E.2.b.2 Todd Alexander Liipfert (1989-)



Level XVI:

E.1.a.2.a Emmet

E.1.a.2.b Annie

E.1.a.1.a Otto Edworth Liipfert IV (son of Otto Edworth Liipfert III)(2020-)
E.2.a.1.a John (Jack) Patrick Caufield Scanlon) (1998-)

E.2.a.1.b James Messina (

E.2.b.1.a Mercer Cole Liipfert-Lam (son of Jocelyn Elizabeth Liipfert-Lam) (2018-)

E.2.b.1.b and c Twins (2020-)